Don't Tread on Me!
With the growing financial crisis in our state and nation, it becomes increasingly more important to act boldly now! Action is called for and action we shall have.
I've announced my candidacy for the New York State Senate from New York's fourth district for one reason; status quo politics in New York State cannot be allowed to continue. We watch as our state shrinks in population because the cost of living rises along with taxes and stifling regulation on business. We watch as our younger citizens pack their bags for South Carolina, Texas and even New Jersey. We watch as career politicians, organized labor and entrenched state and local bureaucrats squeeze every possible cent from hard working middle class taxpayers that simply can't take it anymore.
I'm running because it is impossible to run a business and create jobs in New York State. I'm running because young people can't afford a home on Long Island. I'm running because I can no longer proclaim "Don't Tread on Me", for they have already tread on me and on the citizens of our state.
No more talk. No more acrimony. No more hesitation. No more passing the buck to the next guy.
I'm a small business owner, father of six and a proud American. I will not stand by while big government bureaucrats and the liberal establishment destroy our great country. The threat to America today comes from within.
I have stood for free enterprise, individual freedom and fiscal responsibility my whole life. Now I will demand it on behalf of the people of the fourth senatorial district.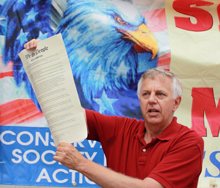 I ask for your help.
Sincerely,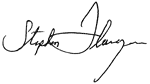 Stephen Flanagan
Candidate for New York State Senate
csa.flanagan@gmail.com
---
Stephen Flanagan for NYS Senate, P.O. Box 221, Brightwaters, NY 11718 631-365-4259